Underwear Washing 101: *Hint* It's all about the fabric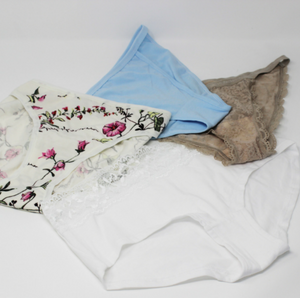 From our friends over @ The Underwear Expert, we reiterate the top tips for keeping your undies in tip-top shape when it comes to laundering:
And....it's really all about the fabric!
When it comes to washing your dedicates it really is all about how DELICATE the Fabric is!
Depending on the durability and composition of your undies, you wash appropriately. A silk undie with uber-delicate fibers, of course, needs the hand-washing technique. A more durable fabric like 100% cotton has a bit looser rules when it comes to laundering but that doesn't mean you get to just ignore their delicate nature.
For example, our personal brand of undies, POPCHEEKS, is composed of a Cotton Stretch fabric which means you want to maintain that stretch as much as possible to prolong wear of these fabulous bikini undies. That being said, a big no-no, is immersing your undies in HOT water, as this breaks down the fibers causing them to become loose and lose that ability to bounce-back. That ability to stretch and conform makes for a better form-fitting fit. No one want's saggy underwear, right? 
Conversely, if your undies have a fabulous pattern you don't want that fade over time, which can be caused by, you guessed it, HOT water or spending extensive time in sunlight.
So treat your underwear with pride, and wash on cold to luke-warm on delicate cycle and ideally, tumble-dry on low or hang-dry with NO sunlight to fade that gorgeous undie print.
And don't forget the sins of Undie washing:
BLEACH, HOT WATER, & A HOT DRYING CYCLE.
Trust us, your buns with thank you!
xoxo
POPCHEEKS undies
Beautifully-printed underwear for the modern and classic gals
#popcheeksusa: Check out our POPCHEEKS insta for some undie inspo
Leave a comment
Comments will be approved before showing up.