How Wearing Prettty Undies can inspire you & give you a DAILY boost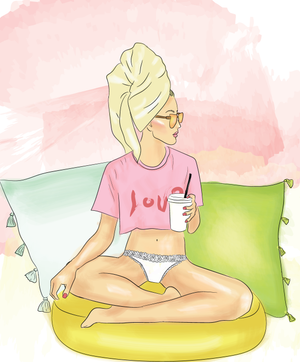 Great hair, Great wardrobe, Great...underwear?
We all know that when we have a great hair day (hello, blowout bar!) you're confidence levels are sky-high based on having that perfectly coiffed do. But are the effects reverse for a bad hair day?
Absolutely.
Having a bad hair day can make your self-confidence absolutely plummet, leaving you frazzled and undone for the whole rest of your day (we've all been there)!
Well, guess what, ladies, the effect is one and the same for your underwear!
Imagine getting ready in the morning and you are in a rush. Remember that pair that your mom gave you for Xmas that are oh-so-comfy but may be a TAD BIT on the granny-panty side...well that may be hampering your go-getter girl boss attitude by wearing them under your work clothes.
You ever wondered about that scene in Sex and the City when the gals are in Dubai & happen upon some women without their full hijab (full-body covering in black cloth). Guess what they were wearing?!? Fabulous designer clothing from head-to-toe (and probably killer undies, too)!
Carrie wondered why on earth they would go through the trouble to put on these killer designer outfits just to cover it up...well those fab U.A.E. Ladies had an answer:
*It doesn't matter as much what you wear on the onside (ok, ok maybe it does make us happy to have a killer wardrobe) but knowing that you are rocking your inner goddess, does.*
Those clothes gave them inner confidence; knowing what special of a wardrobe they had on underneath their hijab was actually what made their day even better!
The takeaway:
Those fabulous undies of yours can give you that little bit of extra sparkle & the confidence-booster to take with you through-out your day. Something we could all use now and again...
Inner girl-boss, un-leash!
#wearprettyundies
xoxo
POPCHEEKS undies
Beautifully-printed underwear for the modern and classic gals
Leave a comment
Comments will be approved before showing up.
---
Also in POPCHEEKS DAILY
11 Coco Chanel quotes to live by *The last is so us*